Since we all have to exist in, and hopefully survive, this COVID-19 thing, British Columbia has been one of the best places in the world to be. Through a combination of good luck and the steady hand of BC's Chief Medical Officer Doctor Bonnie Henry, BC's case and death count has been low for the past three months. After we rushed home from Bali, things were in lockdown early and BC's phased approach to re-opening has worked well for the most part.
Unfortunately, this trend seems to be changing now, with confirmed cases spiking over the second week of August, though they'd been slowly trending upward for 2-3 weeks prior. We completely flattened the curve for the six weeks from late May to early July, holding steady at about 200 active cases and daily new cases in the very low double digits. Deaths have been sitting just below 200 for some time, with active hospitalizations currently at eight.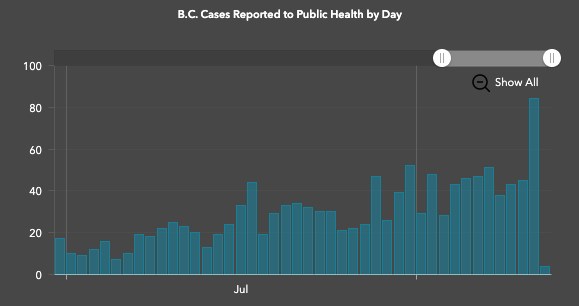 In the month from mid-July until now, active cases have jumped from roughly 200 to well over 500. Most alarming though is the aforementioned spike in daily new cases. As you can see from the BCCDC COVID dashboard, from July 10th onward we've been clearly trending up from 10 to over 50 cases a day. For the first 10 days of August we held steady around 50, with a massive spike to 85 on August 11th and 78 on the 12th. The positivity rate we're seeing now is likely due to the BC Day August long weekend. We'll only know whether this is a trend or an anomaly a few more days down the road.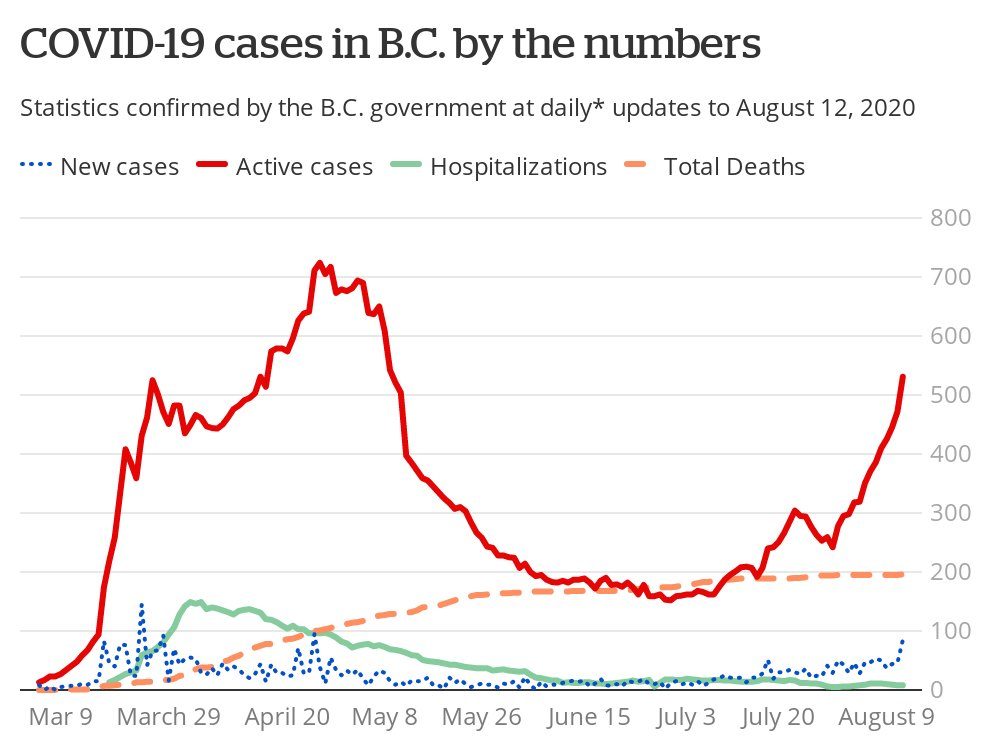 Given daily and cumulative case counts, it seems it's only a matter of time until we start seeing hospitalization and death rates begin to inch up. That is, unless we see some changes in how the BC Government is managing our response. I've been concerned for some time, primarily due to watching people increasingly act like it's business as usual. When you factor in schools re-opening in a little under a month, as with our daily case counts my concern begins spiking. I understand government's desire to maintain a soft touch approach that favours education and voluntary compliance, but that doesn't seem to be working any more. Given where our numbers are now going, I'd like to see some changes.
School Re-opening
The biggest X factor at present is the looming return to school. As we've moved through the phases of general re-opening, the government has been consistent with its mantra of few faces, open spaces and physical distancing. What they have published for schools runs counter to this in pretty much every way.
I'm glad I don't have school-aged children any more, but that's not easing my mind about what's coming. As the government has released bits and pieces of what they plan to do, stress amongst teachers and parents seems high. The BC Return to School site hasn't been updated in nine days as of this writing. It highlights their five stages (we're currently in stage two – full-time in learning groups) and plans for September.
Particularly troubling about the plan is the vagueness, group sizes and health protocols. Learning Groups lays out how they may function and what schools may do, but little in the way of firm expectations for parents. The things we do know are that learning group sizes for elementary students will be 60 and secondary students will be 120. So, learning groups are exempt from the 50 person group limit and the physical distancing recommended for the general public. While physical contact will be limited, masks aren't mentioned at all. For kids then, virtually all COVID containment protocols are out the window. And, somewhat inexplicably, the older the kids (and the easier they spread COVID), the bigger their learning groups are.
The science they seem to be depending on stating children do not get sick from or transmit COVID, is now out of date. At minimum, we now know that while children do not appear to get as sick as adults, those over ten transmit just like them, while research on children and COVID is nowhere near complete. School districts and private schools don't need to have their restart plans submitted to the MoE until August 21st. Ministry feedback and finalization is then supposed to be complete by August 26th. From then it's only two weeks for plans to be published and communicated to parents, until school starts. Even if parents have concerns, this kind of timeframe means nothing substantive can change.
The health and safety guidelines being used are published by the BCCDC. For the most part, the guidelines as with the plan itself, mostly count on some physical distancing when outside, and keeping students in their new bubbles of 60-120. With case counts currently on the rise then, in a few weeks school-aged children will be dumped into new large groups of people, basic COVID containment strategies will be eliminated for the most part, and then … ? Not only will students have new daytime bubbles of dozens of people, but also all the people each of those kids already had in their existing bubbles. It's a scenario almost designed to encourage viral replication and spread.
Georgia is a Cautionary Tale
While we don't have the level of community spread, nor as many people acting like there's no risk, school re-opening anywhere isn't without significant risk:
The number of quarantines since schools in Woodstock and the rest of Cherokee County opened last week is just that — impossible to ignore. At least 478 students and teachers were asked to quarantine after possible exposure to Covid-19 in the first five days of classes. By early Tuesday, that number had swelled to 925 students and staff. Nearly one-third of the district's schools — which teach 30,000 students from elementary to high — have been impacted.
It seems to me a far more measured and phased approach to school may be needed. Why not pick a couple sites for full-time learning group pilots while offering blended or fully distance programs across the board? I know that this is a challenging idea, and that young children desperately need the social aspects of school and in-person learning, but meeting challenges is unfortunately the name of the game during COVID. What happens if there's a super spreader event at a large school like Kitsilano or Killarney? Do we shut everything down and/or can we suddenly move online? I doubt it. And if we have a super spreader event, what specifics have we put in place to contain it quickly? Are we putting K-12 specific resources and teams in place who can mass-test and contact trace the literally hundreds of people they'd need to?
I hope by the end of August that my fears are assuaged and plans and protocols look reasonable and thorough. Right now, plans seem designed to actually spread COVID and I don't see the school or health contingency plans needed if that comes to pass. If I had young kids I suspect I'd be keeping them at home on September 10th.
Bars, Nightclubs, Restaurants and Private Gatherings
The government's advice is to stay home if you feel sick, hang out with people you know in small groups, preferably outside, maintain physical distance and avoid sharing things like drinks, joints, cigarettes and vapes. All sound advice, but not really being followed regularly from the news coverage. There have been plenty of reports of private gatherings and house parties, often in excess of the recommended maximum size of a physically distanced 50. And parties aren't comprised of just family or small groups and certainly don't have people staying six feet apart. No one goes to a nightclub to see a handful of people two meters away.
It appears that bars and restaurants are managing distancing better, but you've still got conditions which can easily spread an airborne infection. People aren't generally wearing masks to sit down and eat, and you've got a daisy chain of touchpoints all within often confined spaces. Even just on an evening run a couple weeks ago, I encountered two large gatherings of young adults; a large house party and a big gathering outside a secondary school. While at least the latter was outdoors, in neither case were there fewer than 50 people, nor was anyone wearing masks.
As well, a recent story of a party bus being turned away at a downtown Vancouver bar is pretty illuminating of how people are perceiving government messaging. A bar owner sees a couple dozen people pile out of a bus and try to enter. He notes they aren't following current health protocols and refuses. A few days later one of the bus patrons tells the media that they were following all the rules and didn't understand the bar owner's reaction. Leaving alone for a moment that 20+ people in a party bus cannot possibly be staying six feet apart (and wouldn't be wearing masks), they may well have felt that their group of friends met the criteria for a personal bubble or few faces and all was well. At most, the government is urging young people to avoid parties. This isn't enough and multiple media stories prove it.
And then there's this …
Really?
We have yet to eat a sit-down meal indoor at a restaurant. In fact, aside from a small number of visits to brewery tasting rooms where no one outside our family was within twenty feet, we haven't done anything in or near groups of people, aside from masked shopping trips and take out. Just the fact our family bubble includes three people who regularly serve food and alcohol in restaurants is enough exposure for our liking at this time.
Since we've seen steadily rising case numbers for the past three weeks, and now two days averaging 80, I'd like to see the government roll things back in this area. Perhaps limiting food and alcohol service to take out and outdoor patios only, and banning all large indoor gatherings with sufficient fines for those who ignore the rules. Things like large house parties and nightclubs are not only not essential, but they are some of the riskiest things people are currently doing. Certainly these types of summer events are part of the reason our caseload is climbing.
Mandatory Masks
I'll spend the least time on this one, because it's the simplest and most effective. Scarves and buffs don't help and may actually hurt us, but unequivocally, masks are one of the best ways to curb the spread of COVID.
Wearing a face covering does not just help others – it limits your own exposure, too. According to a study in Hong Kong, wearing a mask in public was effective for the SARS coronavirus (a virus very similar to the new coronavirus that causes COVID-19). The study found that people who frequently wore a mask in public were half as likely to be infected.
Masks work. I know the government doesn't want to be heavy-handed and, until recently, it appeared to be the right approach. However, with cases rising dramatically at the moment, kids and teachers on the verge of massively increasing their bubbles, weather beginning to cool and people gathering inside more, the conditions are seemingly ripe for a big outbreak of COVID in BC.
More problematic, when we are out we rarely see people wearing masks any more. It can be up and down of course, but in my experience it's mostly down. Whether picking up a coffee, running into the grocery store or London Drugs, or simply walking in crowded places, I'd peg mask use at about 10-15% on average and sometimes almost zero. Unless we're outside or well-distanced, when we're around other people we're wearing them. Period.
Mandating masks in several scenarios seems prudent. Even if all other things remained as they are now, it's the one thing that would be easiest to do and provide the greatest benefit. If kids still return to school with insufficient protocols, people continue to attend parties and nightclubs and people everywhere don't maintain six feet of distance, if most were wearing masks most of the time, we'd be in much better shape.
Put it all Together
While Premier Horgan has hinted at getting tougher if we don't get our shit together, without mandating a few things with substantial penalties for refusing, I fear our current spike is the beginning of a new trend. Right now, with firm action we can avoid a significant outbreak. Since we'll be living with this well into next year and possibly longer, with winter and increased indoor gatherings, the timing seems right. If we mandate masks, restrict large indoor gatherings and ban indoor food service, while taking a more cautious approach to the coming school year, there's no reason BC can't remain one of the best places on earth to get through this thing.